In the rapidly changing environment that is digital medical imaging, PACScenter continues to evolve in order to maintain its relevance and usefulness to clients. From traditional PACSs archive delivery, to serving complete radiology training platforms, we work to extend PACScenter to a wider range of scenarios and challenging use cases. What follows is a sneak peek at the features introduced in PACScenter in the past few months, with a special focus on third party integration.
Zero installation study prefetching
If you are often worried that your studies may take a while to appear in the viewer due to slow connectivity or just by the fact that the study comprises a very large number of images, then you are interested in knowing that we have strived to be a force against this nuisance over the years.
In the already existing prefetch mechanisms that PACScenter has to offer, they have been revamped to support prefetch signaling to users of the PACScenter web application. That is, the API for third party components to request study prefetching is no longer constrained to signal workstations with our desktop application. If a user is logged in to PACScenter while outside, a custom radiology information system can trigger prefetching for that user, so long as the browser session stays online. This does not invalidate the PACScenter desktop application, which can handle prefetching without the main application running.
Coupled with the ability to read and populate users' worklists through our public Web API, this could be another important asset in platforms wishing to employ PACScenter in clinical workflows.
Caching status column for search results
Moreover, PACScenter now offers a column in study listings that shows whether the study is already in your browser's disk cache.

A positive answer means that the study is ready to be reviewed. If not, you can press the status button to request the study to be prefetched. This makes it possible to download the contents of multiple studies without having to open them one by one.
Transcoded DICOM study download
While the importance of data compression has already been emphasized in the past, it is often the case that modalities do not support encodings that offer compressed pixel data, or leave them by default in uncompressed form. As such, when our users want to download the full DICOM study in an anonymized form, a functionality which we already provide, the resulting ZIP file to transfer may still be unbearably large.
To counter this problem, PACScenter now supports an extension for DICOM transcoding. Files containing uncompressed data may be re-encoded to lossy or lossless JPEG before packaging them into the ZIP file, thus saving time and bandwidth. Whether you choose to transcode files or not, DICOM study download has also been tuned for extra performance and efficiency.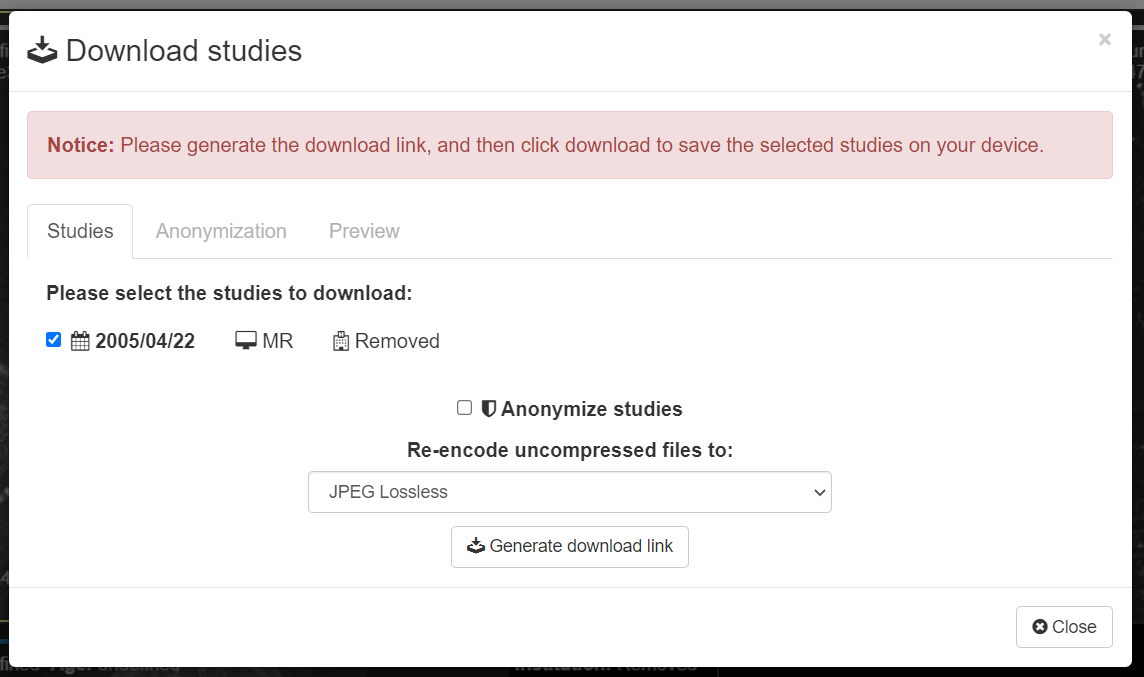 Requesting study downloads can also be done via the public PACScenter API.
Event subscription system for third-party software
PACScenter takes importance in supporting integration with the clients' own software to fulfill new use cases. With the latest edition of PACScenter, third party components can receive real-time updates of more activities occurring in the system, such as when a user signs a report.
Events are transmitted in a fashion akin to webhooks, where the server sends HTTP requests to configured endpoints, called subscribers. Subscribers can be easily set up by administrators from the new Events management page. They may listen to more than one kind of event, and new events may be broadcast to multiple subscribers. The payload can also be digitally signed to ensure authenticity.

We are thrilled for what will come next in the PACScenter ecosystem. If you would like to know more about these features or provide feedback, we greatly appreciate that you reach out: info@bmd-software.com. You can also check out our public demo!