The new COVID-19 pa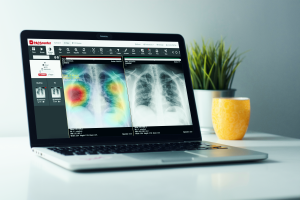 ndemic is creating new challenges in society. Under its new context, the necessity to work remotely has skyrocketed, as well as the reliability in platforms that allow this mobility. Additionally, it seems that this is not a temporary measure. The necessity for industries to adapt is bigger and, in the field of health, it feels urgent to deal with this issue.
Given the sanitary issues of SARS-CoV-2, Chest X-Rays and CT scans can now be extra important for quick identification of the disease. More importantly, dialogue between different specialists might reveal an additional benefit in the diagnosis.
All over the world, PACScenter has been allowing the continuation of these necessary dynamics for teleradiology. This platform allows Radiologists to work from home, whether they are using a Windows PC, Mac, on tablet and or other mobile devices, via the web.
With this solution, access to studies is simpler and secure. The images are stored and managed on the cloud and no CD, DVD or Film is required. Moreover, considering the item delivery of items, the digital sharing mechanisms are gaining momentum, and PACScenter allows to share medical exams with secure web links.  
The results of using this platform are high-quality diagnostics since professionals can receive studies, analyse them, create annotations and instantly share opinions with other professionals and facilities. These beneficial outcomes are allowing balanced coordination between clinics and their physicians.
Furthermore, this platform's characteristics are providing new discoveries and developments in technology regarding the global pandemic.
For example, in Kazakhstan, PACScenter is under use for the creation of an automatic diagnostic solution. The acquired x-ray images are transferred to the PACScenter, after which they are automatically analyzed by the neural network, and the result is stored back into the PACS in the form of a new DICOM study with a heat map and the detected symptoms. This process is completely transparent for the physicians, who are able to compare the original image and the diagnostic result, simplifying the diagnosis and the dynamics of the disease. According to BMD's partners on the iMedHub project, On the third day of using the solution, all the hospital's doctors confirmed that the diagnostic process is many times faster, which, in the current situation of physical lack of time, is a lifeline for them.
Download the full article about PACScenter in use for lung disease identification in Kazakhstan here.