Managing several health care facilities in distinct and distanced geographical locations can be a hard task. For large scale architecture, or distributed healthcare facilities working in teleradiology modus operandi, BMD draws a potential scenario that can serve these facilities through a centralized infrastructure.
The IGW (IntelliGateway) solution allows to connect distributed DICOM networks as one, enabling access to remote DICOM services. Its key features are that it is web-based and fault-tolerant, and allows secure accesses and communication. It is a DICOM Router that allows interconnecting several DICOM networks in a secure way (Figure 1).
The DICOM Router supports store and forward capabilities according to a specific set of DICOM rules. In a simple way, the component will provide storage service to different radiology modalities/equipment. The Router is installed on the network of remote units, acting as a local DICOM archive server. After, the examination will be received and stored in a temporary cache and transmitted in the background to the configured DICOM nodes.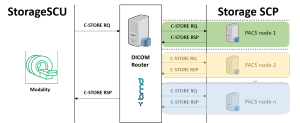 Figure 1. Store-and-Forward.
This module can be deployed on a Windows or Linux machine. In a Linux server, it is only necessary a single command relying on Docker and the service will be up and running.
In addition, the Store-and-Forward module can be managed locally or in a centralized way. On this aspect, the PACScenter web interface can easily connect to any DICOM Router module. These modules can be deployed in different hospitals, and will easily receive images from any modality.
Moreover, customization is possible, so you can take the most advantage of the Store-and-Forward mechanism. It is possible to configure the modules through rules like:
All exams are forward to Local PACS;
CTs from Head and Abdomen are forward to PACScenter;
All the images will be removed from Store & Forward after 3 months.
All these rules are dynamic and can be configured depending on the requirements, as well as vary depending on the hospital or deployment. Moreover, the end-user will also have the availability to manually transfer the studies and verify their transmission status.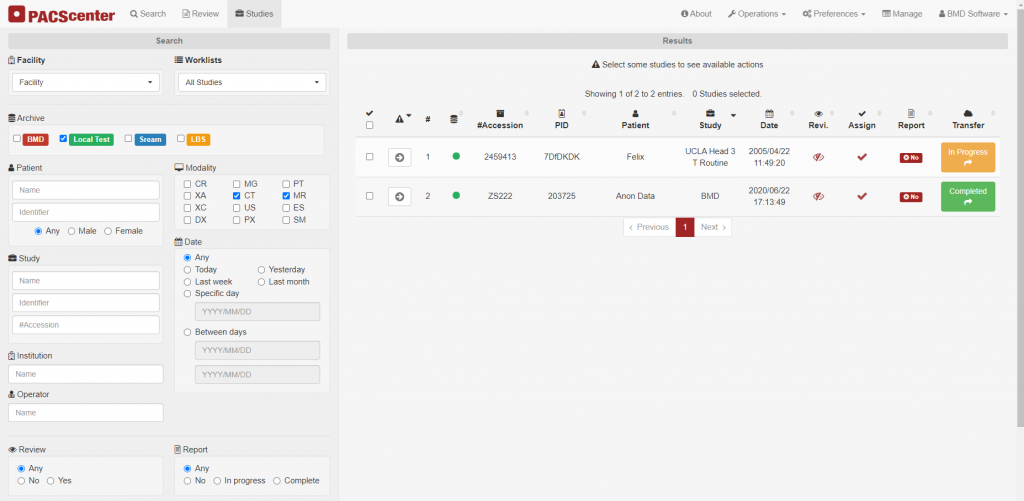 Figure 2. Transfer Status of the study.
While the automatic workflow is highly recommended to speed up the transfer process, there is also the possibility to manually transfer a set of studies or export to a PEN or Hard-drive. If you want to manually transfer a set of studies, the query/search needs to be performed by setting the DICOM Router/Archive to execute the search and then select the studies to transfer. In action, they can transfer to the connected and allowed nodes in the teleradiology network.
The transfer can be assigned for multiple nodes, either manual or automatic, and the progress can be verified per transmission node. This mechanism is reliable and if there are connectivity issues or the DICOM node/PACS is currently unavailable, the system will keep the transmissions in queue until they are online and available to receive the studies (Figure 3).

Figure 3. Manual batch transfer of the studies.
Stay tuned for more update on PACScenter by following us on social media:
Do you want the IntelliGateway running in your institutions? Request your demo now by contacting BMD Software at info@bmd-software.com.