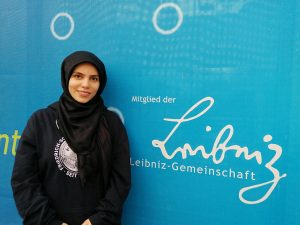 Get to know Mahya
Mahyasadat Ebrahimi is 31 years old and she is from Iran. As a bachelor student, she graduated in Physics from AUT (Amirkabir University of Technology, Tehran), one of the most prestigious universities in Iran. Her master's degree was at Semnan University (Semnan, Iran) in Particle Physics, where she graduated as the second-ranked student. For her master thesis, Mahya simulated the heavy flavor contributions to the charged current structure-function x F3 by using FORTRAN programming and presented all the results by MATHEMATICA.
After graduation, she joined the TANP company, and worked to improve the efficiency of medical devices. Furthermore, she got to focus on image analysis and segmentation. One of the results of this research was the technical note "The Fluo Vision System for Fluorescence Concentration Imaging". During this period of time, she passed several courses in image processing and computer vision with Python.
About Mahyasadat's project
Mahyasadat is researching on her thesis " Analysis and visualization of dynamic host response in animal models with systemic infections by using MRI in-vivo," with the aim of investigating hematology and morphology in the heart & kidneys of the infected mice using MRI data. For this purpose, she is going to develop a segmentation method that complies with these data and then focus on analyzing them.
She started the first stage of her project at UKJ (Uniklinikum Jena) where she worked on the PCI (peritoneal contamination and infection) animal model and collected 101*5D MRI data on the heart and 40*2D MRI data on kidneys of 45 mice in three different time points: Control (healthy), acute (24 hours after infection), and chronic (two weeks after infection and after completing antibiotic injection). After completing the data acquisition part of her project, she started to focus on image segmentation and analysis of these data.
Way to go Mahya! We can't wait to help develop your work and we are very happy in welcoming you to our office!
Stay tuned for more updates by following us on social media: