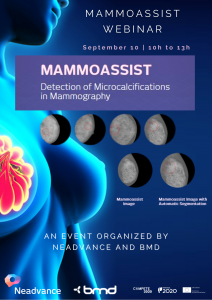 SIGN UP HERE.
Next week, in partnership with NEADVANCE, we are hosting a free webinar regarding our recent project, MammoAssist.
The event will be held on the 10th of September from 10 am to 13 pm.
The MammoAssist project aimed in inserting on the market a tool capable of helping professionals in the early diagnosis of breast cancer, through the automatic detection of microcalcifications in mammographies.
BMD Software and NEADVANCE have created an API which allows extending PACScenter with third-party image processing tools. The final CAD solution was validated by several breast cancer physicians, in several major Portuguese centres.
We invite you to discover everything about this tool by joining us next week.
Sign up by filling the registration form. On September 9, you will receive an e-mail with the link for the Webinar.
Stay tuned!