Last week, BMD's team members have been in the world's leading trade fair, MEDICA, in Düsseldorf, Germany.
This year's edition was marked by BMD's special participation, since it has for the first time created and developed a stand, which was present and Hall 13 in Booth B49. Through it, it was possible to meet new people, reconnect with partners and to promote PACScenter, CardioBox and NeoScreen.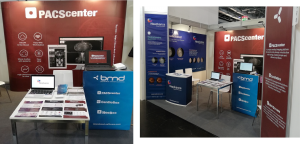 Regarding PACScenter, we have had the pleasure of having our partners from NEADVANCE to join us for the promotion of our joint project MammoAssist, which proposes creating a tool capable of helping in the early and automatic detection of microcalcifications in mammographies.
The event allowed for BMD to maintain its high expertise in the field, by providing for conferences, talks and new insights on what is relevant in medicine in 2019.
This year, MEDICA occurred from the 18th to the 21st of November and joined experts from all over the world and fields of health and life science industries.
BMD was happy to be exhibiting alongside more than 6 000 other companies and had the chance of being visited by more than 120 000 participants during the four days of the event.
With the success of MEDICA 2019, we are anxiously expecting the 2020's edition.